Heatsink Installation
01 Oct 2021

1 Minute to read
Heatsink Installation
Updated on 01 Oct 2021

1 Minute to read
---
Share feedback
Thanks for sharing your feedback!
This guide provides instructions for how to properly install PICO heatsink to the carrier board with SoM module (PICO series).
Installation steps
Please follow the steps below to properly install the heatsink.
Prepare your PICO baseboard, PICO module, Wi-Fi antenna and PICO heatsink kit. Besides you need the following tools: a PH00 screwdriver, a hexagonal 3.0 x 7.5 sleeve screwdriver and a pincer.
Locate three module holes on the baseboard, insert screws into the holes from the rear side. Then insert slowly the module and gently press into the development board to secure it. Place and tighten nuts on top.
Place heatsink thermal pads on the applications processor and Wi-Fi module.
Locate the round Wi-Fi antenna pin on the module. Press the small round MHF4 connector at the end of the extender cable onto this pin. You will need to press down until you hear a click sound. Make sure the connector is aligned with the pin.
Put included plastic washers on the screws.
Insert slowly the heatsink and gently press into the development board. Then secure the heatsink with screws.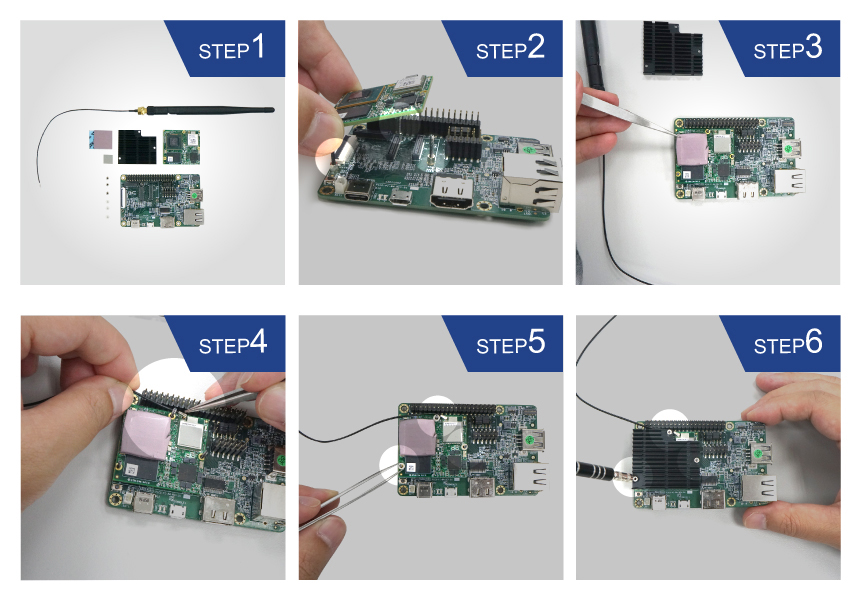 Warning
Make sure to keep your board powered off during this process.
---
Was this article helpful?
---
What's Next